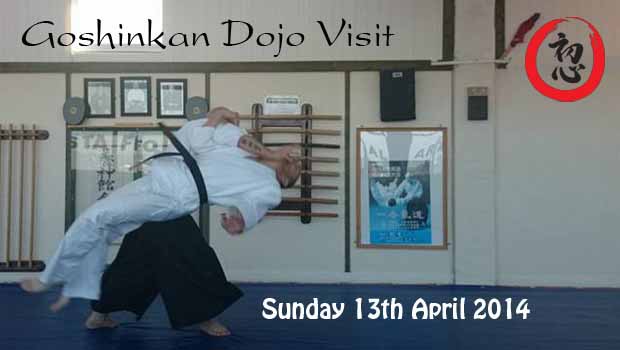 We have been invited to train at Goshinkan Dojo in Stafford. Goshinkan Dojo is run by Jay Savery sensei (4th Dan) Yoshinkan Aikido, who has been teaching aikido in Stafford for over 15 years.
He has trained with many great Yoshinkan teachers around the world. Most recently, he has been tested and recommended for his 4th dan by Steven Miranda Sensei (6th Dan). The test was administered by Amos Lee Parker Shihan 9th Dan Yoshinkan then approved and signed by the director of the Yoshinkan Honbu Y. Shioda Kancho.
Some of you may remember him from performing a demonstration at our 2nd Annual Demonstration last year as a guest instructor. It was an inspiring demonstration full of energy and great Aikido knowledge.
We are priviliedged to have been invited to his dojo for an open training session. This a free event and a great opportunity to train with aikidoka from a different dojo, and learn and share the knowledge from a great instructor. If you are intersted please let us know, and we will be looking to car share our way there, so get your name ASAP!
Dates and Time
13th April 2014 @ 11am
Location
Stafford Martial Art Academy,Browning St
Stafford,
ST16 3AX, United Kingdom
Cost
FREE!!
How to get there??
We will be car sharing so please let us know who wants to come ASAP! Leaving Nottingham around 10am!