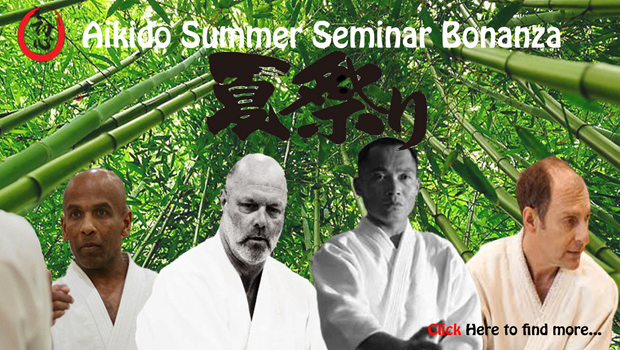 We have one exciting summer of Aikido this year. We have 4 of the world's top Yoshinkan Aikido Shihans ( Master Teachers) and some extra training opportunity with other dojos around the country. Please have a look at the event list below, and come and join us on the Summer Aikido Bonanza!
24th – 27th July : Shudokan Summer School

Teacher : Joe Thambu Shihan (7th Dan) & Robert Mustard Shihan (7th Dan)
Fees : £60 per day, £180 for 4 days
Location : Shudokan Eagle Dojo
Riverside Bldg, Riverside Way
Nottingham NG2 1DP
24th – 26th July : Jacques Payet Shihan Seminar

Teacher : Jacques Payet Shihan (7th Dan)
Fees : £30 per day, £70 for 3 days
Location : Stafford Marital Arts Academy
Unit 9D, Paul Reynolds Centre
Stafford, ST16 3AX
23rd – 24th Aug : Tsuneo Ando Shihan Seminar

Teacher : Tsuneo Ando Shihan (8th Dan)
Fees : £50 per day, £90 for 2 days
Location : High Wycombe Judo Centre
Barry Close, High Wycombe

Buckinghamshire, HP12 4UE
Dojo Trips
All these cross training sessions with other dojos are free of charge. We will be car sharing to get to these different dojos, so please let me know if you are interested.
Wednesday 13th August : Derby Dojo Trip
Thursday 21st August : Bingham Aikido Trip
Sunday 31st August : Eiryukan Aikido Lincoln Trip
More dates to be added at later date….Watch this space!!
Emquiries @ : Tel 07843600645 or admin@aikidoshoshinkan.com