We will be starting our very popular beginners' course aimed at complete Aikido novices on Tuesday 12th January in Derby & Thursday 14th January 2010 in Nottingham and they will continue to run all year.
Classes take place over a rolling 8 week period enabling you to start at any time, and provide an introduction to Yoshinkan Aikido focusing on the basic techniques at a pace suitable for everyone.
These sessions will take place at:
Shoshinkan Nottingham dojo situated at Games Workshop on:
Thursday evenings from 6.30pm to 7.30pm starting Thursday 14th January 2010.
or Shoshinkan Derby Dojo situated at Lees Brook Community Sports College on:
Tuesday evenings from 7.00pm to 8.00pm starting Tuesday 12th January 2010.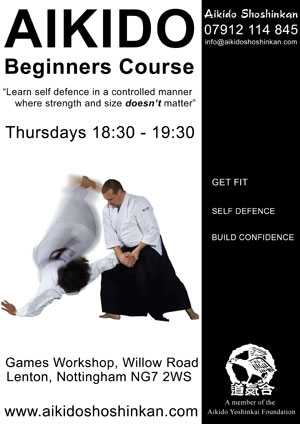 Because each class is stand alone a missed class isn't an issue. Once you have attended a minimum of 8 weeks students will be encouraged to join the regular classes.
Cost
Only £5 per class or £30 for 8 classes.
If you would like to attend please fill in our brief contact form typing "Beginners Course" in the subject and let us know which Tuesday or Thursday you will be attending.
For further details: admin@aikidoshoshinkan.com or 07912 114 845.
For even more information on getting started please read our FAQ.