Joe Thambu Shihan (7th Dan) UK Tour 2013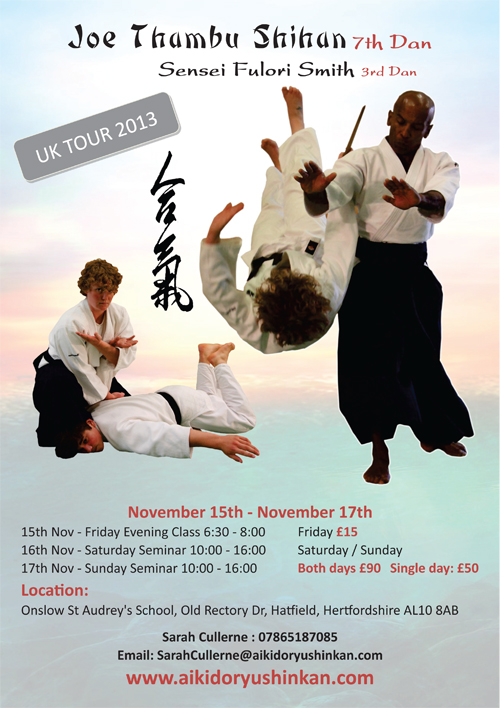 We are very pleased to announce that Joe Thambu shihan (7th Dan)(Our technical director) is coming to Europe again. He will be coming with Sensei Fulori Smith (3th Dan), one of the full time instructors at his dojo. They will be coming over on the following dates at the following locations below. This is a fantasic opportunity to train with one of the best Yoshinkan aikido instructors in the world, and Joe Thambu shihan is also our technical director of Aikido, so you will be getting the instructions from the true aikidoka.
There are 2 dates now set for London and Nottingham. All classes are open class to all Yoshinkan Aikidoka. And self defence class is open to all general public and all martial artists alike. Joe Thambu shihan is world renowned for his self defence application of Aikido. So you can get the first hand experience and training of the self defence skills and restraint and removal skills.
If you are interested please book your place as soon as possible as the places are very limited for all venues. There are three different venues, so please let us know which particular one you are interested as well.
Emquiries @ : Tel 07843600645 or admin@aikidoshoshinkan.com
UK Tour Schedule
Nottingham Seminar : 11th Nov – 14th Nov 2013
London Seminar : 16th – 17th Nov 2013
Location
Nottingham Seminar : 11th – 14th Nov :

Zanshin Dojo,
Sneinton Hermitage Community Centre,
Sneinton,
NG2 4GN
London Seminar 16th & 17th Nov
Onslow St Audrey's Academy Trust
Old Rectory Drive,

Hatfield,
Hertfordshire
AL10 8AB
Fees
Nottingham Seminar :
London Seminar 16th & 17th Nov :
1day only : £50
For both days : £90