Nottingham Dojo takes the 1st "DOJO CUP" home!
The 1st Annual Shoshinkan Demonstration was a great success with over 80 juniors taking part in the demo showing great spirit and skills on the mat. The crowd of over 400 plus were wowed and wooed by eveyrone's performance. This was the first time the Nottingham Dojo and Derby Dojo who normally share the wealth and experience between the dojos were in competition with each other for the first time.
All the juniors had been practicing for the demo for the last 6 weeks and they all went out roaring for success. Both Derby and Nottingham dojo showed immense spirit as they performed their demo. Young juniors showed off their kihon dosa, and then came the seniors showing off their athleticism by throwing each other in difficult techniques. All the performances were judged by the masters from all around the world ( Poland, China, Australia, UK, and Japan) And they were very impressed with both of Nottingham and Derby juniors!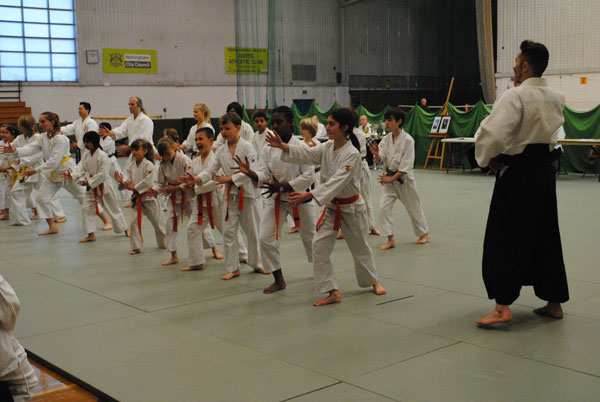 But there was only one winner! With very narrow margin, Nottingham Dojo were the winner of 2012 "Dojo Cup" winners. Congratulations to all the Nottingham Juniors, and also a big congratulations to all the juniors who took part in the demonstration. You all made our dojo proud!!
Lastly there was an award for the "Junior Student of the Year" one special person who showed and sacrificed a lot of their time to work and improve on their Aikido. And sometimes going beyond the call of duty to help others around you as well as to improve your own. This award went to Yvette Du-Plessis from Nottingham dojo for showing great spirit in the dojo all the time, and helping the junior class in summer camps and throughout the year. So big congratulations to Yvette for our first Junior Student of the year.
Osu.