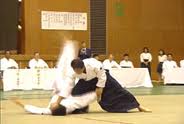 Yoshinkan London are honoured to be hosting Takafumi Takeno Shihan 9th Dan and his Chief Instructor Chiemi Nakagawa Sensei 5th Dan in April/May 2012.
Takeno Shihan is currently Saiko Shihan (Senior Master, Technical Director) of the Hombu Dojo in Tokyo and Founder of the Yamanashi Yoshinkan Aikido in Kofu, Japan. He was the main uchi deshi for the founder of Yoshinkan Shioda Gozo and Chief Instructor at the Hombu Dojo for many years.
Anyone who has seen a Takeno Sensei demonstration has an idea of the power and speed of his Aikido. If you get a chance to receive his techniques, you will be amazed by the softness of the contact, your balance being stolen immediately and then how devastatingly fast you are accelerated into the mats.
Weekend Seminar 28 – 29 April 2012
A weekend seminar at the K2 Centre in Crawley (close to Gatwick Airport and the M25). The venue is a modern Leisure Centre with plenty of new mats and plenty of space. There will be a demonstration on the Saturday with a party after training. Good value accommodation is available at 2 nearby Premier Inn hotels.
Three day intensive course 30 April – 2 May 2012
For those Aikidoka that have attained at least 4th kyu and can commit the time and the energy, we have organised 3 days of more personal intense training. This will consist of morning, afternoon and evening classes. It will be held at The Yoshinkan London Dojo in Camden. The numbers for this event are limited and therefore preference will be given to those who book the full 5 days training schedule. Good value accommodation is also available with Hampstead Premier Inn.
Prices
We understand that in the run-up to Christmas cash is scarce so please secure your place with an early deposit of £50. The full amount must be paid by 1st March 2012 to guarantee your place. This event is aimed at covering costs and not making a profit so please note that all deposits are non-refundable.
Deposit is £50 – to be paid before 1st Jan to secure your place
Full 5 day course (£180): £130 – further payment to be received by 1st March 2012
3 Day Intensive (£120): £70 – further payment to be received by 1st March 2012
Weekend Seminar 2 day (£80): £30 – further payment to be received by 1st March 2012
Weekend Seminar 1 day (£50): No further payments required
For Further enquiries please contact London Yoshinkan for more information
Osu.