Joe Thambu Shihan (7th Dan) European Tour 2011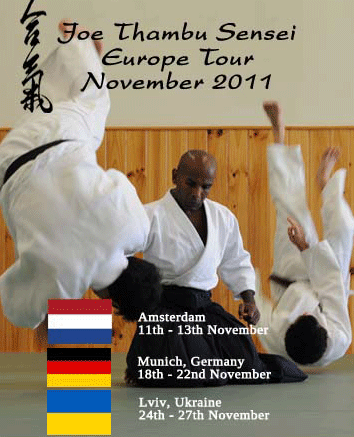 Joe Thambu shihan (Our technical director) is coming to Europe this winter! He is coming over on the following dates at the following locations below. This is a fantasic opportunity to train with one of the best Yoshinkan aikido instructors in the world, and he is also our technical director of Aikido, so you will be getting the instructions from the true aikidoka.
We will be organising a trip to one of the locations together so if you are interested please let me know as soon as possible. We are currently looking to go to the one in Ukraine, but if you want to go to any of the below, we can arrange for your to attend any of the seminars.
European Tour Schedule
11th – 13th November 2011 in Amsterdam : Netherlands
14th – 17th November 2011 in London, Derby and Nottingham : UK
18th – 22nd November 2011 in Munich: Germany
24th – 27th November 2011 in Leviv : Ukraine
I have also posted the youtube demonstration below for your reference.