Eiryukan dojo was established by Neville Coupland Sensei and is the first Yoshinkan Aikido dojo to be formed in Lincoln.
Neville Sensei is a direct student of Ando Shihan (8th Dan) and has been training for 5 years. The majority of this time he spent in Japan, where he completed Ryu Dojo's Third Annual Tokebetsu course, followed by the 2006 Senshusei Course at Honbu Dojo.
Eiryukan was named by Ando Shihan and means "English Dragon School".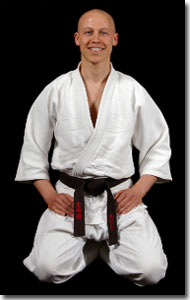 Neville Sensei teaches adult classes Wednesday and Friday evenings and also teaches five primary school classes a week.
He is keen to play an active role in the local community and has taught self-defence seminars at a women's community group, which organises motivational seminars for women.
Students from the Shoshinkan have had the opportunity to train at the Eiryukan dojo, where Neville Sensei and his students have made us feel very welcome. The dojo has a great atmosphere, which is peaceful and energising at the same time.
Neville Sensei is an inspirational teacher who has so much enthusiasm for what he does. It is always a pleasure to train with Neville Sensei and students from Eiryukan dojo, and we hope to train with them again soon!
Please visit Eiryukan's website and YouTube Channel.