Joe Thambu Shihan Poland Summer Gasshuku 2013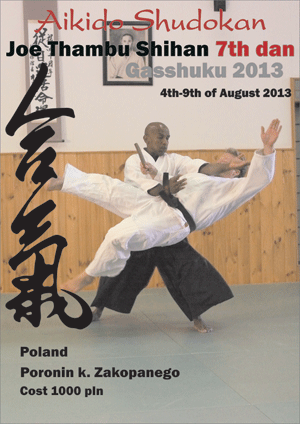 We are very pleased to announce that we have been invited to the "Aikido Shudokan Poland Summer Gasshuku 2013" with Joe Thambu Shihan (7th dan). The event is hosted by one of our Pawel Felisiak Sensei (4th Dan) from Aikido Shudokan Poland .
This is a fantastic opportunity to train with Joe Thambu Shihan and also with some of the other Shudokan students from around the world. We will be staying at the "Weronika Camp site" in the mountains of lovely historic Poland with great hospitality from the Polish guys. The mere 1000pln will give you a nice twin bed room with 3 meals per day all board, including the training of course!!
If you haven't thought of a summer holiday, this might be the ticket to have great time training, and enjoy the beautiful scenery of the Polish countryside with great Polish hospitality. (Lots of Vodka!)
There will be further information to follow soon. But don't miss this great chance!
If you are interested please enquire further to book your place.
Emquiries @ : Tel 07843600645 or admin@aikidoshoshinkan.com
Gasshuku dates
Location
Ośrodek Wypoczynkowy Weronika
Monika i Józef Strama
34-520 Poronin, Suche 7A
Cost
1000pln (Approximately around £200 plus)