Robert Mustard Shihan (7th Dan) UK Tour 2013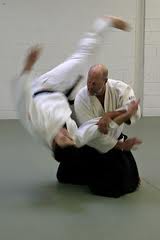 We are very pleased to announce that Robert Mustard shihan (7th Dan) is coming to Nottingham again. This is a fantasic opportunity to train with one of the best Yoshinkan aikido instructors in the world, and world famous Aikidoka from the book "Angry White Pyjamas".
For close to 10 years he trained as a student of Soke Gozo Shioda, founder of Yoshinkan Aikido, Takafumi Takeno Sensei, 9th Dan; and Tsutomu Chida Sensei, 8th Dan. In 1991 Mustard Sensei was appointed Itaku Shidoin by Shioda Kancho and remained the Chief Foreign Instructor at the Yoshinkan Honbu Dojo until he moved back to Canada in 1995.
Mustard sensei now resides in Canada and runs a full time dojo Aikido Yoshinkai Barnaby. He now conducts seminars and clinics all over the world, spreading the art of Yoshinkan Aikido.
If you are interested please enquire further to book your place.
Emquiries @ : Tel 07843600645 or admin@aikidoshoshinkan.com

Nottingham Seminar dates
Nottingham Seminar : 16th March 2013 : 10:00 – 16:00
Nottingham Seminar : 17th March 2013 : 10:00 – 16:00
Time to be confirmed at later date
Location
Shudokan Aikido Westbridgeford
Eagle Dojo

The Eagle Building
Riverside Way
The Embankment
Nottingham
NG2 1DP
Cost
£200 for 2 days, £100 per day.