Shudokan UK Summer School 2012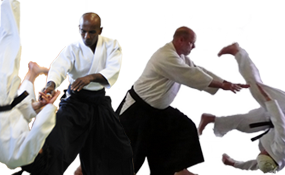 We are very pleased to announce that we have been invited to the Annual Shudokan Summer School this year. There will be three 7th dan shihans on the mat. Joe Thambu shihan (Our technical director), Robert Mustard Shihan from Yoshinkan Barnaby in Canada and Ken Robson shihan from Shudokan Nottingham UK.
There are 4 dates now set for the seminar. starting on 28th June @9am – 5pm and it will go on til 1st July on Monday. This is a very rare opportunity to have some of the best non-Japanese instructors in the world. Joe Thambu shihan is our technical director of our dojo, and the first non-Japanese shihan to be named from Yoshinkan Hombu dojo. Robert Mustard shihan is a very well known from the book "Angry White Pyjamas" best selling book written by Robert Twigger about the life of senshusei life in the Yoshinkan Hombu dojo. Ken Robson shihan is also a hihgly respected aikidoka from Shudokan Belt Academy.
If you are interested please book your place as soon as possible as the places are very limited for all venues.
Emquiries @ : Tel 07843600645 or admin@aikidoshoshinkan.com
Or contact directly @ : Tel 01159856504 or info@shudokan.co.uk
Timetable
Friday 28th June 2012 9am – 5pm
Saturday 29th June 2012 9am – 5pm
Sunday 30th June 2012 9am – 5pm
Monday 1st July 2012 9am – 5pm
Location
Shudokan Black Belt Academy West Bridgord
Cost